"Organizations" Module
Contains official data on all legal entities including affiliated companies and representatives registered in Kazakhstan.
Module serves to run various market researches, competitor analysis and business activities.
Each organization description contains the following:
Full organization name
Business Identification Number (BIN)
Full name of business activity
Common Classifier of Economic Activity
Location (region and etc.)
Classifier of administrative-territorial Objects
Staff  number (small, medium, large)
Classifier of enterprise size according to staff number
Date of Registration (from November 2013)
Example:
Полное наименование
БИН
Вид деятельности
ОКЭД
Населённый пункт
КАТО
Размер организации
КРП
Дата регистрации
ТОВАРИЩЕСТВО С ОГРАНИЧЕННОЙ ОТВЕТСТВЕННОСТЬЮ "НАИР"
970440
000113
Прочая розничная торговля в специализированных магазинах
47789
Г.КОКШЕТАУ
11101
0000
Малые предприятия (от 31 до 40 чел.)
140
н/д
ТОВАРИЩЕСТВО С ОГРАНИЧЕННОЙ ОТВЕТСТВЕННОСТЬЮ "ҰН-АНА"
100640
001327
Производство муки
10611
П.ШОРТАНДЫ
11683
0100
Малые предприятия (от 0 до 5 чел.)
105
н/д
Filters can be applied on all organization parameters.
With the help of the Catalog you can quickly find organization/company based on BIN, name, Common Classifier of Economic Activity, address, size and other criteria.
For example, you can choose the region of interest and see all registered organizations. You can narrow search by sector (business activity etc.) up to the size of organization – getting clear understanding of the subject.
Search for new customers in Kazakhstan – KazDATA practical guidelines.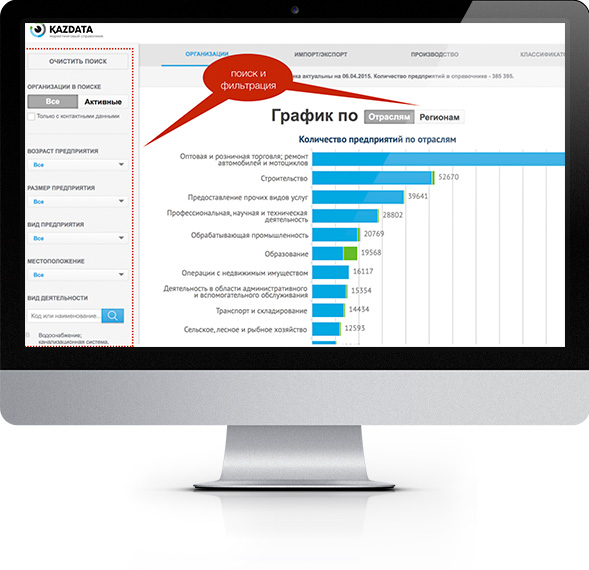 Additional function "search" in the table.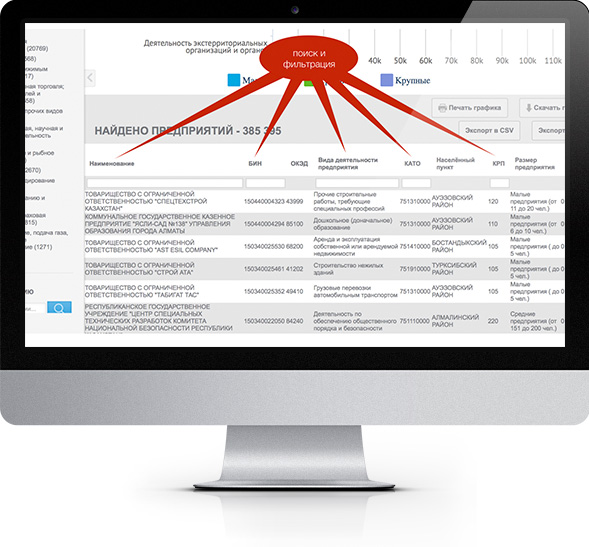 Updating "Organizations" database weekly. On all questions please refer to Information. KazDATA specialists will assist you on how to use the application.
Every week we are preparing analytical report on updated number of legal entities in Kazakhstan (Report example). Subscribe for reports and keep yourself updated on the latest market changes in Kazakhstan.
We are constantly improving the module
05.04.2017 - В модуле добавлена возможность поиска лжепредприятий.
25.11.2016 - Surname based search added in "Organization" module.
List of all organization in Kazakhstan at your fingertips
Register now
Quickly search the market. Save your time.
Empowered with Information

Prepared for Action!